Regular price
$49.99 USD
Sale price
$45.99 USD
Unit price
per
Sale
Sold out
Product description

This bottle is designed to safely and quickly filter drinking water from any freshwater source, including lakes, wells, and hostel taps. So whether you're out camping or exploring a new city, the WaterWell 700ml water filter bottle will help keep you hydrated and safe.
Shipping and returns

We offer free and fast delivery to customers in the UK and USA.

If you're not happy you can return your unused product within 30 days.
Share
View full details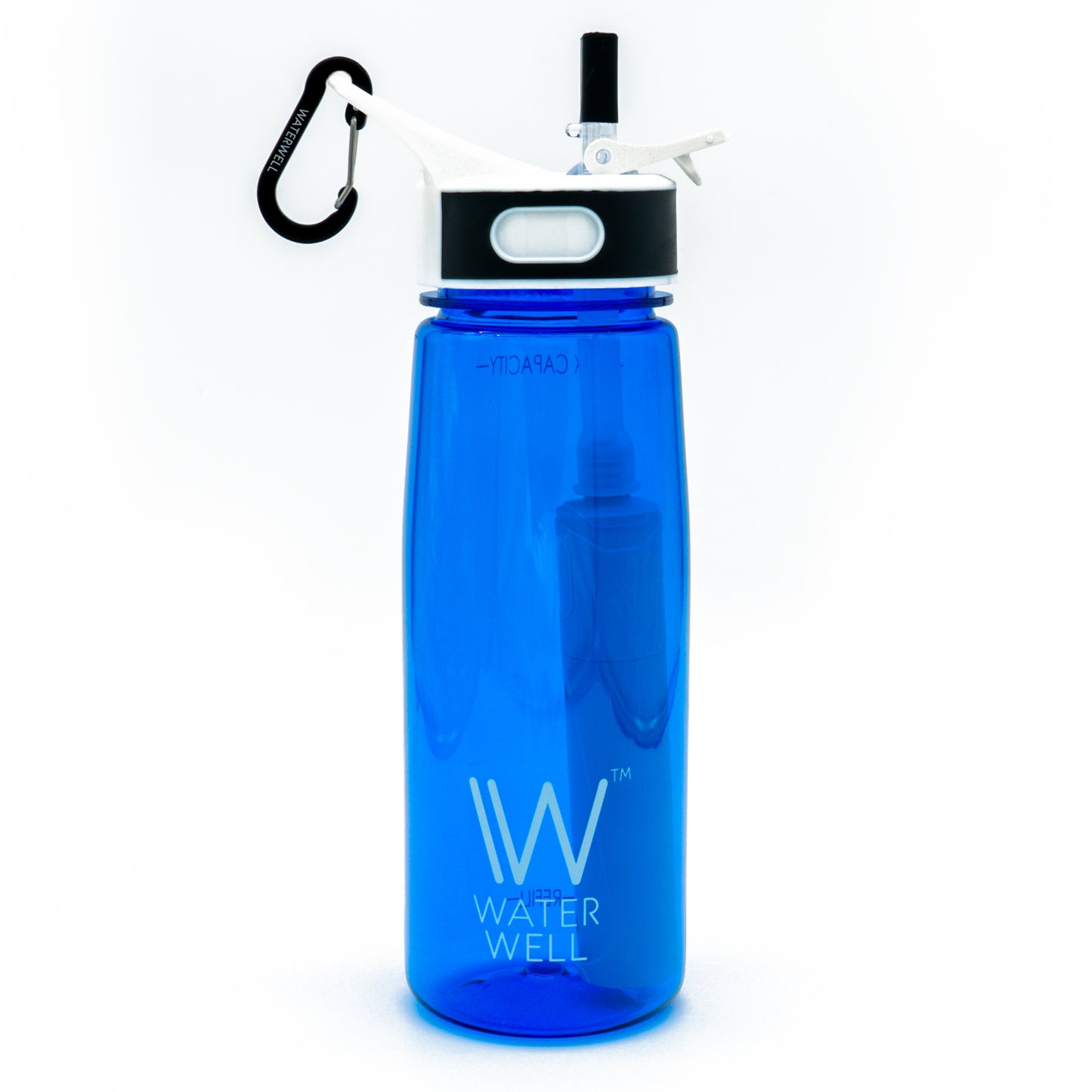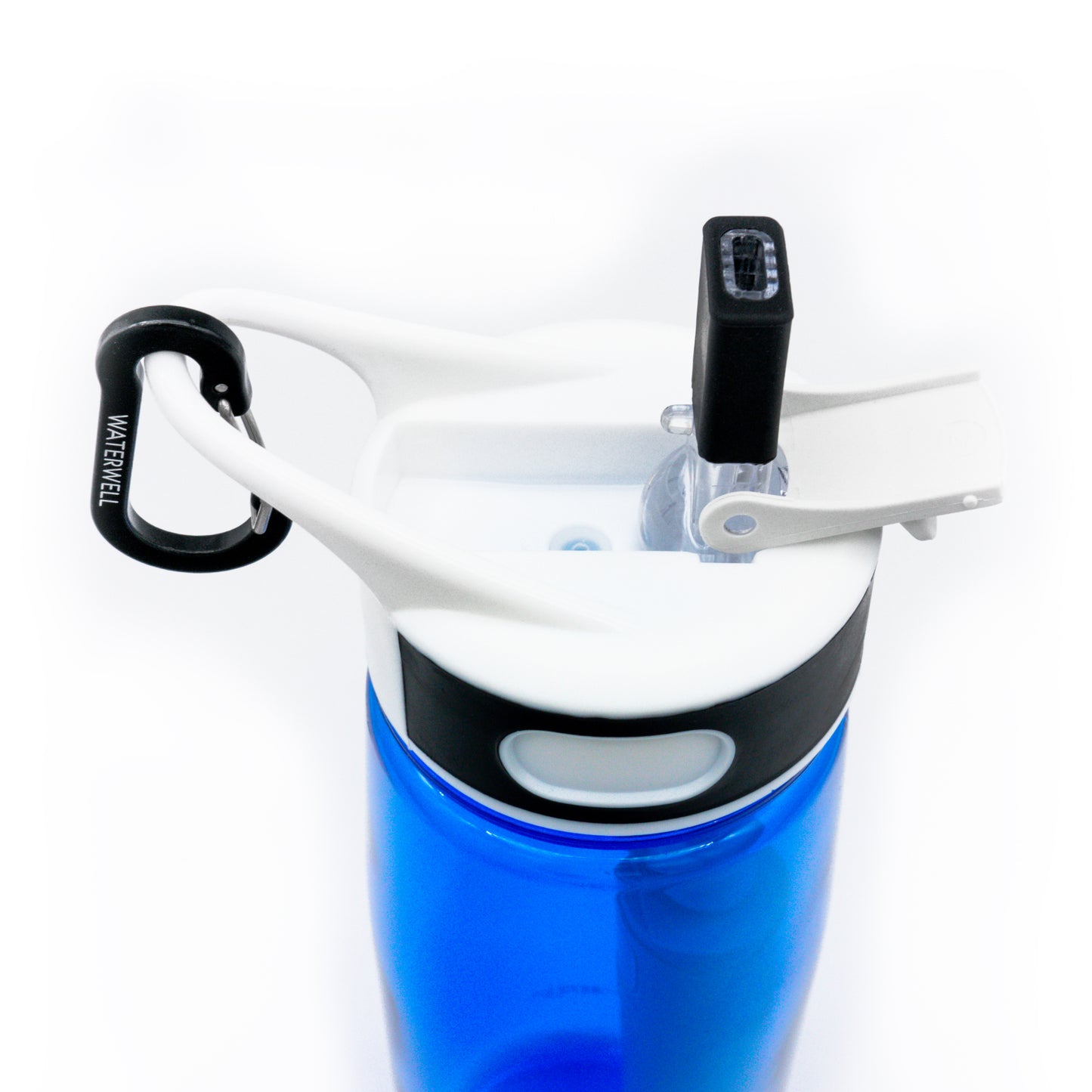 Life is better when you drink clean water
Stay safe and hydrated on your next outdoor adventure
Enjoy peace of mind knowing that you always have a safe and reliable source of drinking water available, no matter where in the world you are.
Lightweight and easy to use

Carry your water bottle around with ease

No aftertaste

Enjoy great tasting water anywhere
Long-lasting filter

Filters up to 1,000 litres - the equivalent of 3,000 disposable plastic bottles
Suitable for everyday use

Extend the life of your filter and switch out the filter with a reusable straw

D-Gate Carabiner

Securely attach to your bag or backpack. Just clip and go!
Built to last

Made of tough BPA-free tritan plastic so it's highly durable

Auto shutdown

Water stops flowing once straw lifespan has expired

100% leak proof

No more unwanted leakage or spillage

Hygenic cap

Reduces the risk of cross contamination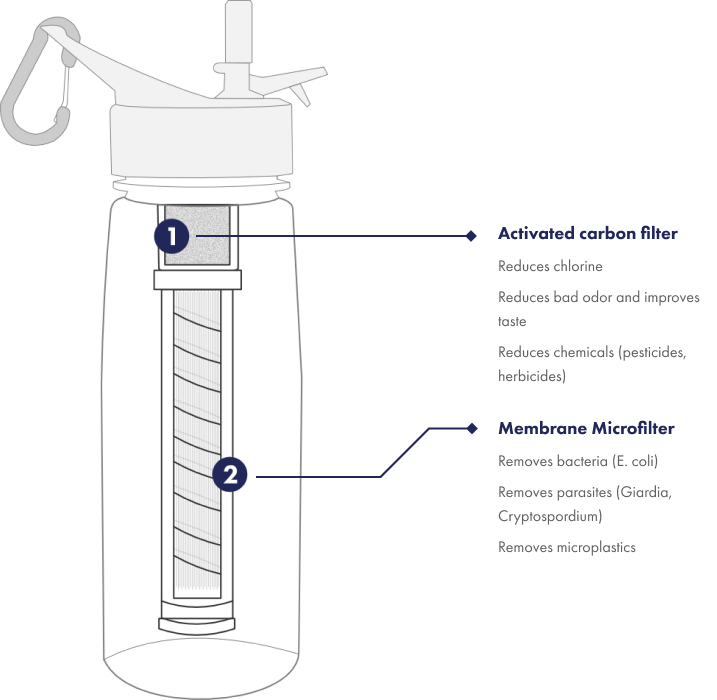 How it works
Using a patented 2 stage filtration system, our filters filter particles to 0.1 microns ensuring safe clean drinking water every time.
WaterWell removes 99.9% of waterborne pathogens including chemicals, VOC's, herbicides, pesticides, heavy metals, microplastics and lots of other nasty stuff. Now you're left with great tasting, odourless water.
How to use
1. Fill up anywhere
With WaterWell you can enjoy great tasting water anywhere.
2. Connect the filter
Place the filter inside the bottle and twist the lid on tight.
3. Sip and drink
Flip open the mouth cover and extend the drinking nozzle.
Tech specs
Volume: 700ml

Height: 23.5 cm

Diameter: 7.5 cm

Filter lifespan: 1,000 L

Material: BPA-Free Tritan Plastic

Weight: 195 g

Technology: 2 Stage Ultra Filtration

Flow rate: 450 ml/sec
In the box
WaterWell 700ml Water Bottle

Recyled Cotton Bottle Holder
FAQs
Does the filter come ready to use?

It should be soaked first before using to maximize its efficiency and lifespan. For first time usage, simply rinse the filter and bottle with clean water and stand the filter upright in water for 1 minute keeping the top 1cm dry. The filter flow rate will be slow at first but as the water penetrates the filter's fibers, the flow rate will improve.
How does the auto-shutdown feature work?

The filters naturally have an auto-shutdown feature. Once you feel it's getting increasingly difficult to draw water through the filter this indicates the membrane is reaching capacity and it's time to replace the filter. The filtering capacity is up to 1000 litres of water depending on the water quality and should be changed at least once a year after first use.
Can WaterWell filter viruses?

WaterWell protects against bacteria, parasites and cysts but does not filter out viruses the same is true for other filters based on particle filtration. Our filters remove all particles to a size of 0.1 microns - bacterial cells are typically 0.5 microns in size however viruses are one one-hundredth the size of the average bacterium.

If you're worried that there could be a viral risk where you're going we would advise to use with water that has been purified using reverse osmosis, chemicals, boiling or UV purified water and use WaterWell as a secondary filter. It's important to note that some of these aforementioned methods do not remove sediment and particulates in the water.

Be sure to find out any possible viruses common in the regions you are visiting, and make sure you are up to date on your immunisations and follow the usage and maintenance instructions provided with the bottle and filter. ****